IGEN PARTNERED SIDE EVENT #W175 AT THE #UN2023WATER CONFERENCE (off site)
#THEIGEN members in US are cordially invited to the Side Event #W175 at the #UN2023Water Conference (off site) on #WaterActionDecade
#THEIGEN FIRST UN DESA INDEXED PARTNERED EVENT

PROGRAM | 21 March 2023, SCHEDULE – 6:00 ~ 9:00 PM What is your commitment to the #WaterActionDecade? Seven core #WaterAction ideas toward #WaterAwareness, #WaterConscience and #GameChangers #UN2023WaterConference #WaterAction | Side Event ID# W175 ON TUESDAY, MARCH 21, 2023 | Time: 6:00 – 9:00 PM
VENUE: Connect 1 & 2 at the Shelburne Sonesta Hotel New York 303 Lexington Ave, New York, NY 10016, USA SPACE is Limited. Please RSVP no later than 20th of MARCH to EVENT@LMGLOBAL.ORG WWW.LMGLOBAL.ORG


LEADING ORGANIZATIONS The Light Millennium, Charitable Global Human Advancement Organization (2001, New York; LMGlobal.Org) Associated with the United Nations Department of Global Communications; A "Specially Accredited" NGO to the #UN2023WaterConference.

PARTNER ORGANISATIONS : Anuvrat Global Organization (Anuvibha, India), Shanti Fund (NY, USA), The Institution of Green Engineers (IGEN, India), Smile4Millions (S4M, India), Assembly of Turkish American Associations (ATAA, USA), Global Policy Insight (GPI, India), Desire Integrated Water Management (India), The Light Millennium Television (#LightMillenniumTV, USA)

PROGRAM SCHEDULE WITH SPEAKER DETAILS
Prof. VICTOR B. LAWRENCE, Director of the Center for Intelligent Networked Systems (iNetS), and former Associate Dean and Batchelor Chair Professor at Stevens Institute of Technology (New Jersey)
Prof. DOUGLAS G. LUCCIO, Assistant Professor at the Eisenhower School National Security for Resource Strategy at the National Defense University (W.D.C.)
Ms. PAULINE CANTWELL, NGO Representative of Peace Action to the United Nations 1994-2019 (Florida)
Mr. ARVIND VORA, Co-founder, Shanti Fund and Main Representative of Anuvrat Global Organization to the United Nations (New York)
Mr. KANNAN NOVA is currently a Core Volunteer at The Institution of Green Engineers (IGEN) and leads the research activities of the IGEN NXGEN Computing Research Group. He works as a data scientist for Microsoft in the United States. He is an IGEN fellow and an IEEE senior member
Mr. M. TOPRAK CILIZLAR, Molecular Biology and Genetics at Istanbul Technical University (Türkiye)
Mr. GAURAV KUMAR GUPTA, Co-founder and managing director of Desire Energy Solutions Pvt. Ltd. (India)
Mr. JONATHON CUMMINGS, Member, Steering Committee for the Alliance of NGOs and CSOs for South-South Cooperation; Advisor to Global Policy Insights
Ms. GÜLLER YAZGI AKATA, Youth Representative of LMGLobal.Org; Scholar of Yildizlar Education Fund as a Computer Science (B.S.) student
MODERATOR - BIRCAN UNVER is founder-President of LMGlobal.Org (2001, NY), [Head] NGO Representative of the Organization to the U.N. Department of Global Communications, Executive Producer of the #LightMillenniumTV Programs, Multi-Media and Event Producer; Host, Author, Publisher and Public Speaker. She is also a Content Provider at QPTV since 1992.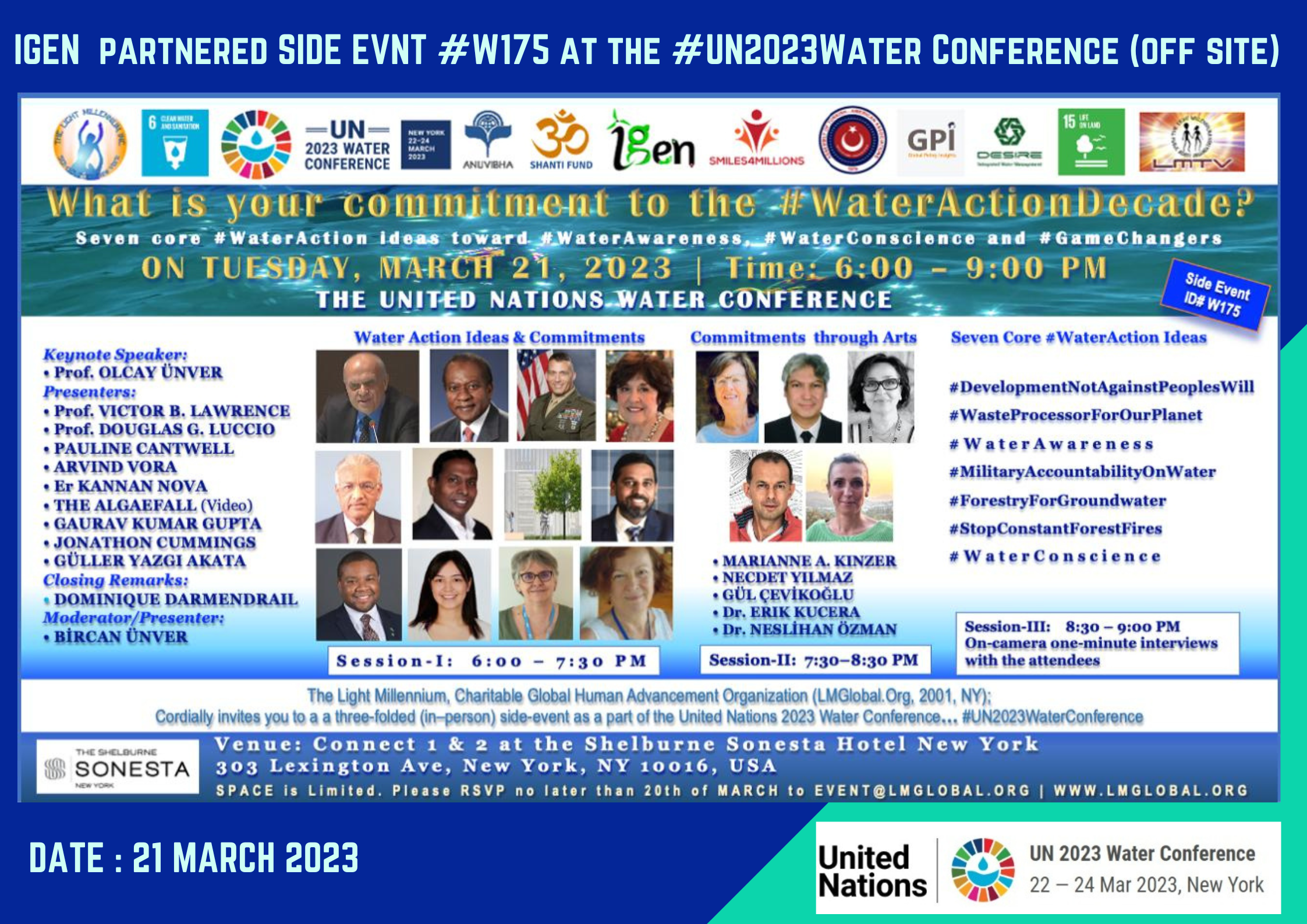 ...
...